Come see us play live @ The Atrium Bar Lounge on July 6th 2016! Show starts at 8:00, free to get in, we need all the support we can get!
Prizes: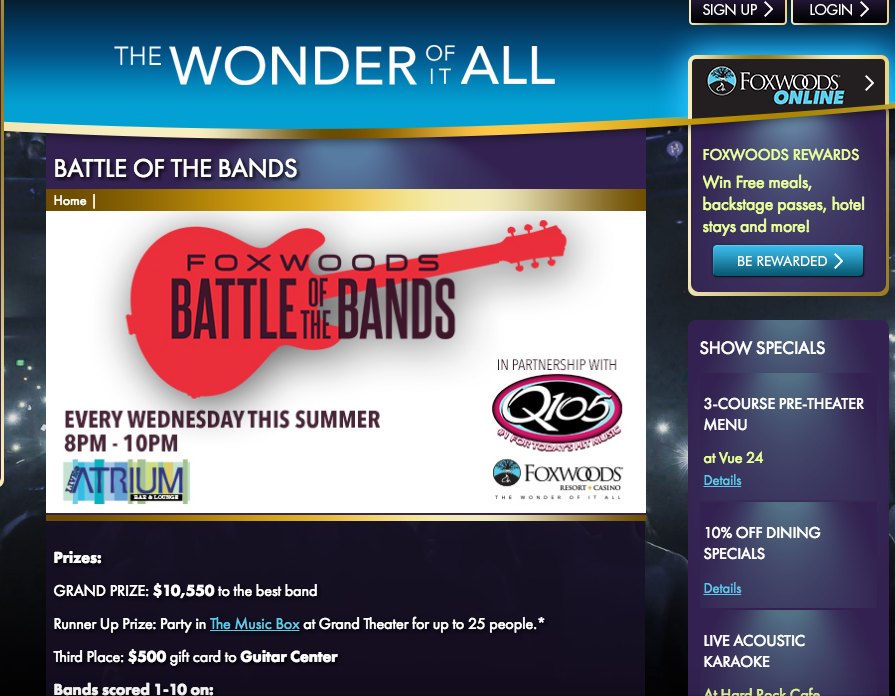 GRAND PRIZE: $10,550 to the best band
Runner Up Prize: Party in The Music Box at Grand Theater for up to 25 people.*
Third Place: $500 gift card to Guitar Center
Bands scored 1-10 on:
Musical Presentation
Stage Presence
Audience Response
Originality
Top score potential is 120 points.
*Foxwoods Entertainment Department to determine show options.   Band members will also receive overnight accommodations at Fox Tower.
LOCATION
LIVE @ ATRIUM BAR LOUNGE
TICKET PRICES
FREE
DATE(S)
May 25, 8:00 PM
June 1, 8:00 PM
June 8, 8:00 PM
June 22, 8:00 PM
June 29, 8:00 PM
July 6, 8:00 PM
July 13, 8:00 PM
July 20, 8:00 PM
July 27, 8:00 PM
August 3, 8:00 PM
August 10, 8:00 PM
August 17, 8:00 PM
August 24, 8:00 PM
August 30, 8:00 PM
September 10, 4:00 PM